with Bill Johnston

…coming up that gnarly ravine, you turn the wheel just enough to clear that deep void that formed between the rocks. You give it a little gas to get over the last ledge and BAM! One of the front wheels goes powerless and you slide into the hole.

When we take our rigs out to play, things tend to break, especially after adding aggressive tires and flexy suspensions. One of the most common breaking points in the drivetrain (besides universal joints) are the birfield joints that allow us to turn the front wheels while under power. Many zook pilots have swapped running gear to beefier stock, and that works. But why not provide a way to increase the strength of what is already there? CALMINI Products Manufacturing did.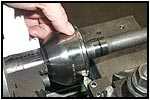 The original designers of the birfield must have thought about strengthening their design from the start, because they put a ridge on the inner edge to keep it from exploding under great pressure. Smart.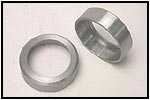 But then we pull off the 26 inch street tires and throw on some 32 inch mud tires and great pressure turns extreme. The original designers had the right idea, but didn't go far enough. CALMINI's* (*patent pending) Birfield Cup design strengthens the birfield to withstand this type of abuse... Here we install a set on our 92 Samurai.
We start by placing the front axle on a pair of sturdy jack stands, and then remove the wheels and brakes. You can 'bungee' the brake calipers up and out of the way without loosening any brake lines, it's quick and clean. Drain the oil from the differential and dispose of it. Next come the hubs and the 'C' clip that holds the axles in place. Don't loose anything. I use a butter dish to hold all of the smaller hardware. It saves you major headaches during the reassembly.
Next remove the retainer (half) rings from the back of the knuckles. Be careful not to damage the felts under the rings, they are what keep the grime and gunk out of the knuckle.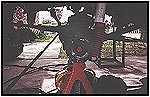 Remove the kingpin bolts and mark the kingpins. It saves time and adjustment if you put them back the same way you found them. Once the kingpins are pulled, the knuckle and then the birfield with the axle attached can be removed easily. Then it's time to clean-clean-clean. Get all the grease out of the axle side of the knuckle, you want a clean area to work in when you start removing material.