K.A.D. Drive Shaft from
Rocky Road Outfitters
with Bill Johnston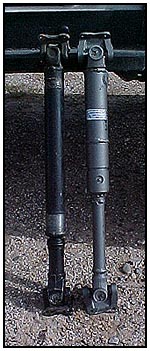 My stock front driveshaft was about as wobbly as you can get without losing it going down the trail. The shaft would move almost an inch from side to side when you grabbed it at the splines. It was time to start looking for a replacement before I got really embarrassed on the trail, or in the parking lot, or the driveway... but you get the picture.
Drive shafts are replaced all the time, but usually with other stock drive shafts... at least ones that haven't failed yet. We add spacers and extenders to make them fit the amount of lift we install. It works, they fit, but does that increase the capability of the component? Nope.
We now have suspensions available to us that can far exceed the capabilities of a stock drive shaft, so we need to start looking for a worthwhile replacement. The replacement must have beefy universal joints, a strong body and long travel splines to put up with the punishment we tend to dish out. Oh, and it needs to be able to bolt up to your Suzuki flanges without any machining... yeah, right. Ok, while we are dreaming, let's add yokes that are made for high angle applications and they need to be in stock - ready to ship to your door without any custom work to be done...