Shift Lever Installation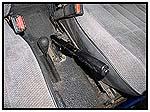 The new shifter handle will come through a slot that you have to cut in the transmission tunnel. It will come up next to the emergency brake. The length and front/rear positioning of the slot will vary depending on body lift height (if any). The left/right position of the slot can be adjusted for user preference.
Make sure the slip ring is locked to the rear. Use the new shifter handle to point to the underside of the transmission tunnel, lining up the handle with the two mounting bolts.
Mark this as the rear edge of the opening. Lock the slip ring to the front, line up the handle and mark the front edge of the opening. Measure the length of the opening and note the position relative to the emergency brake bolts that are seen from below. Remove the passenger seat, and any center console and/or accessories that are located on the transmission tunnel for ease of installation. If you have carpeting, remove it from the transmission tunnel.
Find the location of the planned new opening relative to the emergency brake bolts as seen from inside the vehicle.
The left/right position of the slot can be adjusted to clear anything that may be in the way. These photos show the slot moved closer to the emergency brake. The slot needs to be ˝" wide. The rubber edges provided are 5" long and will allow just enough room for the handle to come through with minimal air gap.
Measure three times, cut once…
Adjust the handle for any left/right slot position change. Measure the distance the slot position was shifted and reform the handle accordingly.
Remove the shifter grip and bolt the handle in place. Shift it forward and back to verify clearance for shifter handle. Shifter must fully engage the forward and rearward detent positions. Trim slot accordingly.
Remove handle and install rubber edges. Install the handle from below, gently sliding the handle through the rubber edges of the slot. Secure the handle with the bolts, lock washers and spacers provided. Install the shifter grip from inside the cab. Apply dab of Black RTV to ends of rubber where any air gap is seen.
Again, verify shifter operation by moving the handle from forward detent to rear detent. Reinstall the passenger seat and put away the tools, you're done.