*NOTE*
This article was first published back in 2009. I have republished it here to save it for historical value. The links and contact information may be out of date considering the age of the article.
Going Small!
written by Bill Johnston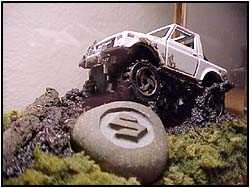 Here is one time when you can end up with an awesome display and not have to turn a wrench to get it. Don Olson will custom build you a zook along with a clever place to show it off!
Looks like Suzuki left their mark on the boulder, right? Don strikes again. If any of your friends have a problem figuring out what kind of vehicle it is, then the boulder can set them straight.