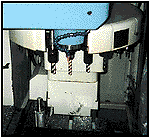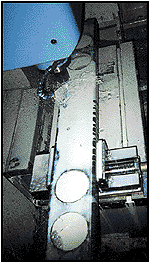 I started with a 5' length of rectangular steel tube that provided the 'beef'. Although the holes for the lights could be cut using a large hole saw or a handheld jigsaw, I chose to throw the bumper onto the C&C machine. This allowed me to trim the ends at the same time the holes were cut.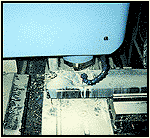 I know this isn't something that everyone has in their garage... but it sure made it easier to cut though the 3/16 steel!
*note* If you want to do something similar, but lack the access to drilling or cutting tools necessary to cut these holes, you can pick up a 'Bumper Blank' from Glenn at Rocky Road Outfitters at a surprisingly low cost.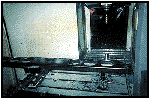 I chose to use three lights on each side to make it easier to wire with the stock harness. I also cut out the center hole for a 2" receiver that I planned to flush mount for a clean look.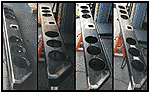 The steel was going to be beefy enough to take the abuse, but I was worried about the small area between each light. If a rock were to hit the light I could replace it on the trail if I needed to, but if that small section of metal in between got hit there would not be be much support behind it. The answer to this problem was welding in a 3/8" support rod in between each light. Click on the four frame picture to the right to see how that problem was solved.