The Trail Tough Rock Block
by Bill Johnston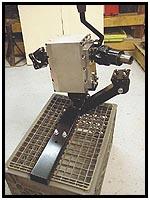 You want to go really slow in the rocks, but you don't want to lose the ability to drive on the highway. You like the idea of additional transfer case, but you don't want to lengthen your drive train which will shorten your rear drive shaft. Yada yada yada... what a dilemma.
Trail Tough has just started shipping their new 'Rock Block', an intermediate gear reduction box that replaces the short drive shaft between the transmission and the transfer case.
This installation took a couple of hours to do, but that included straightening a couple bashed parts and stopping to take pictures, so 'your mileage may vary'.