No matter what we do to our vehicles, the upgrades don't last if they are not protected. Here are a few things I did to keep the vital spots safe from the rocks that like to 'reach out and touch' you. Here are some of the upgrades I went through. Some of these components have been upgraded (replaced) yet again as time passed.
Skid plates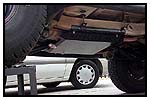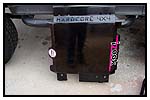 The full width t-case skid and the gas tank skid plates came from Tim Porter of Hard Core 4x4 fame.
The full width t-case skid plate covers from frame rail to frame rail. It is such a 'custom' fit that it takes a floor jack to 'pop' it into place. when you drop the jack, it stays in place waiting for you to put the retaining bolts into place. I have no reservations about dropping onto a rock and spinning the rig to point in the right direction when this is in place. As a matter of fact, I won't go wheeling without a skid plate of some kind. Here is the installation article I did for IZook.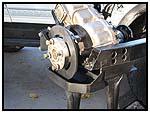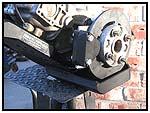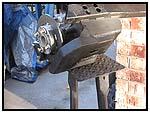 *UPDATE*
Before I talk about the Gas Tank skid plate, I want to say that I have moved on to the Mighty Kong transfer case bucket to hold the transfer case in place. It will not allow enough room to mount the full width Porter skid plate, but does protect well in its own right. I added an e-brake from Spidertrax to the back of the transfer case, and because I needed protection for the rotor - I built a skid/cage addition to the back of the Kong.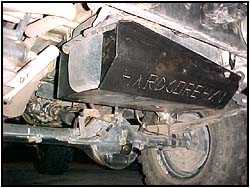 Now back to the Gas tank skid plate. The gas tank skid plate is a direct (bolt-on) replacement for the stock unit. But it won't bend or dent as easily as the stock unit. This makes it much easier to drop off of a ledge with confidence that the tank isn't going to cave in on some rock.