The first time I saw a Zook without it's doors, I was determined to try the modification. I read an article at Off-Road.com in the Suzuki section, written by Glenn Wakefield. I e-mailed him a few times with a few questions. I then took out my dremel and about 2 dozen cut-off wheels and went to work. It took about 2 hours to cut, trim, smooth and detail the hinges. I never took them off of the vehicle. It has been two years now and they are still one of the best mods I have done! For about 9 months out of the year, the doors stay in the garage.
I then had to come up with a way to tame the doors (they can really catch the wind when you have your hands full) so that my fenders wouldn't get bashed. The rocks up in Las Cruces take care of THAT now. It is easy enough to pull the screws on the straps when you need to, but why? If you can use a quick release buckle to make it strong yet easy to remove without tools, why not try it! I got two carpenters belts from Wal-mart and cut them to fit. They are 2" wide and fit the stock retainers. They look nice and are a very practical addition to a set of removable doors.
I have also replaced the stock plastic door handles (inside and out) with aftermarket aluminum handles. I got them from Petroworks and they work as well as they look! They took about 30 minutes to install.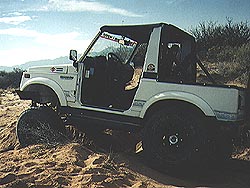 The doors stay at home when hitting the trails.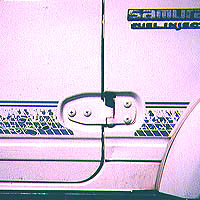 The hinges have never been removed. They were trimmed with a dremel while still mounted.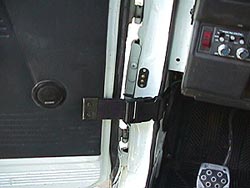 Door strap and wireless connections.