The Interior
I wanted the vehicle to be functional, comfortable and safe to park downtown.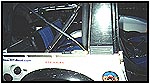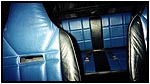 I added a set of cheap pedal covers because they gripped my shoes when everything got wet. The front seats were a no brainer. I wanted something inexpensive while looking cool. RCI makes racing seats that fit the bill exactly. Check out the full install at IZook.com. Later, I had the stock rear seat re-upholstered to match the RCI seat cover color scheme and patterning.

I also had to think about anyone in the back seat on a nice, bright (hot) afternoon of wheeling. Nobody likes a full top on a beautiful day, so I built a "safari" top from an old bikini top I had in the garage. It helps that I have a two piece Bestop SunPort full top with the middle rails on the targa brace. The front stays on almost all the time, and the safari top ran from the back of the targa rail to the rear bow snaps. I have since added a six point roll cage to the vehicle for a bit more protection. Now I have to come up with another solution since the rear cage doesn't let the safari top fit as well. A set of hand grips are part of the fire extinguisher mount that is installed on the main roll bar. These give you something to grab instead of the cage itself. Don't want to squash fingers if you have to make use of the cage.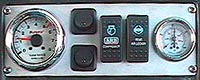 I replaced the small door in the dash that kept breaking off... I found that it was a great place to add a gauge panel for the tach, rock light switches, ARB switches and air tank pressure gauge. I machined it out of 1/4" aluminum stock so that it wouldn't bow in the middle after the holes were cut. Click through the photo to see how it looks in the dash.
The carpeting continued to get really ugly, so next came a complete spray-in liner. I had tried the 'buy it off the shelf' type aerosol spray and it failed to give me the look that I wanted. I found a local company that did everything from bed liners to garage floors and let them give it a shot. It turned out great. We carried the lining out over the door threshold to the top of the rocker guard.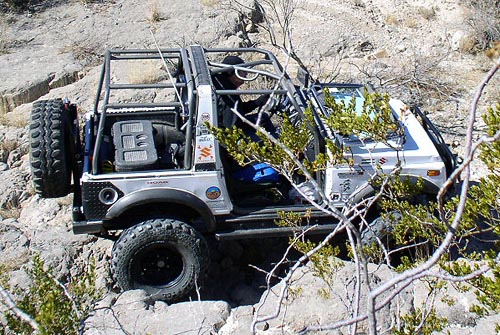 I also run a box in back when out on the trail. It holds tools, parts and other things I don't want to have bounce around inside when getting off-camber.