Suspension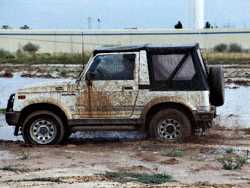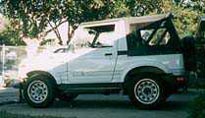 When I first started building the zook, I didn't know what I wanted to do. I knew I wanted to have larger tires, but I was still worried about stability. Then I realized that if I went wider as I went taller, it would even out. I took everything just one step at a time. First I went with a set of "monster" shackles... As you can see from the photos they served as almost a second front bumper underneath the original. Next, I got my 31's and had to make them fit. The original tires had done a respectable 60K miles and they showed their age.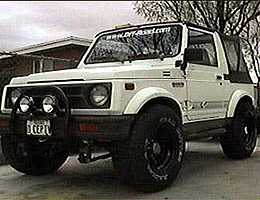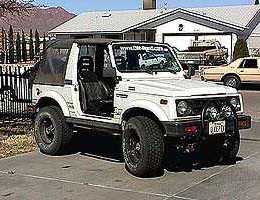 I found that the 2.25 inches of lift from the shackles was just not enough so I picked up a set of Rancho Add-A Leafs. They served me well for getting the tires out of harms way. One thing it added though was the feeling of being stuck inside a paint shaker. Plenty of lift but almost rock solid.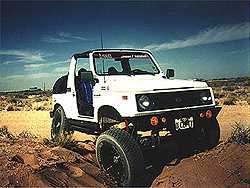 Then I did the SPOA, and it was the most significant upgrade to the suspension system so far. Then I did a trail up in Las Cruces called "Off Broadway" and my rear springs looked like "S's" when I was finished. So next I traded off the Rancho's to a friend for a few CJ springs to supplement the stock spring packs. I had been running Rancho 9000's for a few years now, so when I looked at replacing the front shocks for longer articulation, I picked up a pair of 9012's. After installing a set of upper shock towers from Tim Porter of Hard Core 4X4 and a set of lower shock mounts from Petroworks, the 9012's worked out perfectly. Hard Core 4X4 had stopped selling these shock mounts, but if anyone needs something quick go to your local Ford Dealer and pick up a similar set from them... Yup, the part number at the Ford dealer is E5TZ-18183-A and they range from $12-15 each.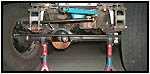 Next I got the chance to install and test the "Z-bar Eliminator Steering System" from Higher Heights Off Road. It is a knuckle-over system that uses beefy (fully adjustable) components that can stand up to the rocks. Bump steer is virtually gone. The install was a breeze and it almost looks stock.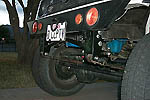 I was still not happy with the "wander" that the monster shackles added to my highway driving. Since this is still a "daily driver", I picked up a Calmini Spring reversal and it fixed most of the wander. It dropped the overall height by an inch, but I had plenty to spare.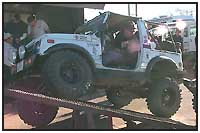 I got my hands on a set of 'Revolver' Shackles for the rear axle. These are similar to the popular 'Missing Link' shackles widely used for more droop when articulating the suspension, but they can be used with stock length springs. They also have a rotating section built in to relieve some stress brought on when the springs start to twist up under extreme articulation. These open up when needed to add about six inches of droop to the rear suspension.
I added the Panhard Kit from Spidertrax for total control of the front end. There is absolutely NO play in the steering wheel now. And when you turn under extreme articulation there is no lateral movement of the axle. In other words, when you turn the steering wheel, the wheels turn immediately. You don't have to wait for the slack in the 'suspension flex' to be taken up and move the axle sideways. The axle stays directly under the rig at all times.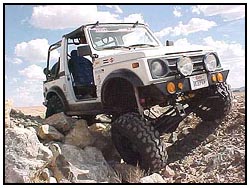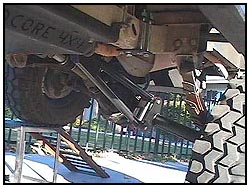 Next we dumped the spring reversal for a set of CJ leaf packs. This (along with a set of Missing Links) increased the articulation in the front by over 14 inches! The article I did on it is at ORC. We also had a big problem with spring wrap. I had already gone to a home-brew mix of CJ and Samurai leaves to make up a set of seven leaf packs. They still twisted wildly when I punched the gas, until I added a traction bar. Then it gave me a quicker response to the throttle and a lot less time replacing spring packs.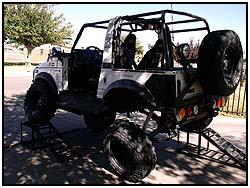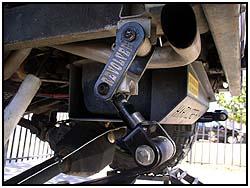 Next came a whole new approach using YJ 5 leaf spring packs all around. A different set of drop shackles in the front and a hybrid set of Revolver shackles was a lot of work, but it was worth it because the articulation and smooth ride was fantastic.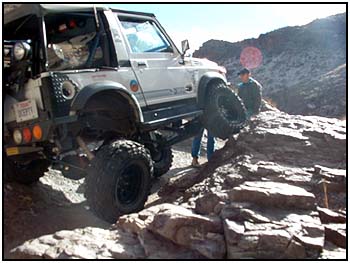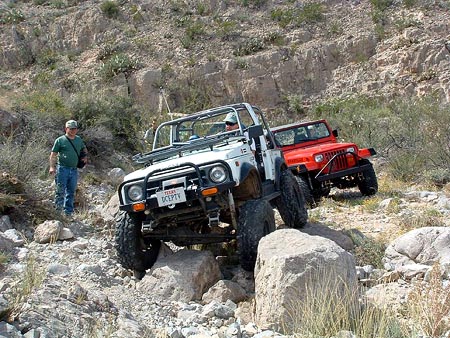 Next I replaced the Revolvers out back with Trail Tough Missing Links. Still very capable...