Drivetrain

The engine started fairly stock. Early on, I did an ignition upgrade through some ties I had at Autotronic Controls (you may recognize the product line they are famous for - MSD Ignitions!)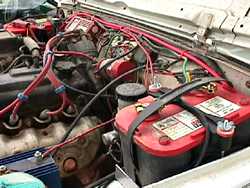 With help of the guys at Autotronics, we put in an MSD 6A ignition box, the 8.8mm wires and the Blaster 2 coil. To use an MSD ignition in the Samurai you have to install a "Tach Adapter" that MSD makes (pn 8910-HEI). Take a look at the installation diagram for a better understanding of how this works.
The MSD equipment has now been removed... The lack of reliability on the trail and on the highway has forced me back to a stock ignition system. All is well again.
I wanted to take care of the larger stereo power needs and hopefully a winch in the future, so I put in a dual battery system using a pair of Optima Red Top batteries. I used the stock jack mount platform to locate the battery isolator.